With decades of experience under his belt, Don Elgin is a fundraising speaker who delivers maximum bang for your buck. As well as putting the 'fun' in your fundraiser with his entertaining stories and infectious energy, Don is a dream to work with (if he does say so himself).
Don understands how much effort goes in to planning a fundraising event. His mission is to add incredible value while delivering a smooth, stress-free experience. He listens to your needs, caters to your goals, and makes the process easy from the moment you first get in touch. Plus, when it's time to present, you can trust Don to deliver a talk that encourages your guests to give generously.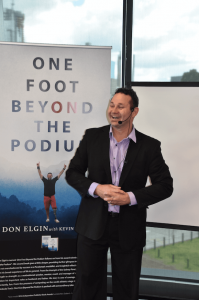 Don speaks at fundraisers for:
Sporting clubs
Charities
Not-for-profits
Local councils
Community organisations
If you want to win hearts, open wallets and show your guests a great time, Don is an invaluable addition to your event team.
Even if you're not raising funds, you can still book Don to speak at your event. He's a seasoned pro when it comes to presenting at sports functions, graduations and private events.
Don got his first gig as a fundraising speaker in 1994. He was his first client. After being selected to represent Australia at the World Games in Berlin, there was only one thing standing in Don's way. He needed to fund his trip.
A 'Sportman's Night' in his country town of Tocumwal was part of Don's fundraising strategy. He took to the stage as a nervous kid with no public speaking experience. He had no notes either, after his Dad tore up his A4 pages and urged him to speak from the heart. Turns out he was a natural.
Guests loved Don's presentation and his easy going approach. Don blitzed his fundraising goals and, within a few hours of leaving the lectern, he was booked to speak at several local events. That was 26 years ago, and Don has been motivational speaking for fundraisers across Australia ever since.
He was pretty good then (with zero practice) and clients say he's pretty great now. Check out some rave reviews from Don's fundraising clients below.
Don Elgin was the keynote speaker at our Club Development Conference in 2019 with his inspiring speech "Building Great Humans". Almost without exception our attendees loved his presentation. Here are two quotes from them afterwards. 'Don was amazing. So inspiring'. 'I could not go past the motivational / keynote speaker, he made me look to my personal aspects and motivate me forward through the tough times'.
Whether it's the local sporting club or supporting businesses with their corporate responsibilities Don is a popular speaker that is sure to attract a large audience and get them in the mood for giving. 
If you need a fundraising speaker who knows their stuff, contact Don's management team for more information. Don is available to speak at events in Melbourne, Sydney and beyond.