In business, your people are your biggest asset. When your team is firing on all cylinders, they bring more to the business table. They communicate more effectively. They have better energy. They adapt, evolve, grow and thrive in a climate that's constantly changing.
So, how do you get your people inspired to bring their A-game every day? Engaging Don Elgin as a corporate speaker is a great place to start.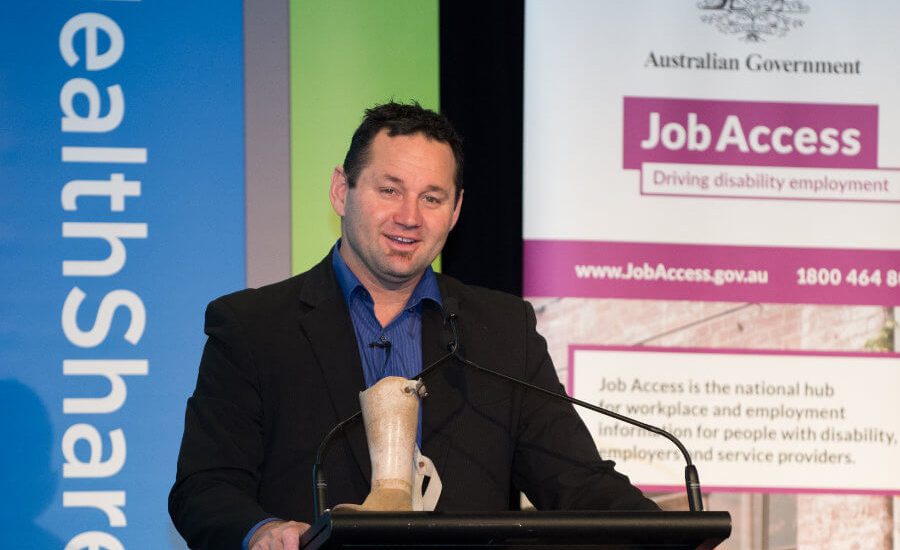 As a 4 x Paralympic medallist, Don is no stranger to hard work. However, hard work alone doesn't promise success. Qualities like resilience, adaptability and persistence are key – and Don teaches people how to harness these for better results in the workplace.
Whether you're rolling out a new initiative, navigating changes, or simply celebrating a business milestone, Don's corporate presentations will inspire and motivate your team. Here are just some of the ways Don helps workplaces succeed:
Teamwork and problem solving
Confidence and leadership skills
Change management
Workplace culture
Staff engagement and morale
Goal setting and strategy
When your goal is to make a lasting impact, it's not just about what you say – it's about how you say it. With over 20 years' experience speaking to corporate teams, Don knows how to cut through the noise and deliver messages with impact.
Don works closely with your organisation to meet specific needs, but his presentations go well beyond business plans and KPIs. As a habit-breaker and change-maker, Don inspires positive changes that flow throughout your organisation. From leadership teams to frontline staff, he empowers people to shift behaviours, so they can do more, be more and achieve more in the workplace.
The best part is, he does all this while keeping your team entertained. Always professional, yet down-to-earth (and never short of a good story), you can count on Don to add value to your corporate function.
I have known and worked with Don across numerous projects, and have seen first hand the power his story has on shifting mindsets. Couple this with his clever and unique approach to engaging people, if you engage Don you'll not only walk away with many tools but you'll walk away a better human!
There aren't enough adjectives in the world to describe Don but here are a few; wonderful, witty, superb, terrific, powerful, outstanding, funny, incredible, joyous and courageous. Don is a truly inspirational all-round great bloke and it was an absolute pleasure meeting him.
"Don was an outstanding success. His bright, engaging personality, and natural sense of humour meant that staff could relate to him. Don is an ordinary person with an extraordinary story. Don is certainly entertaining, but more than that, he is positively inspirational."
"Don's approach to life was an inspiration to not only myself but my whole team. The fact that Don gets excited by oxygen has inspired me to get excited by not only the big things that happen in my life but also the small speed humps that we all overcome on a daily basis as well! If only one person from the group was to take on board 10% of dons attitude then my business would be a better place!"
Don combines real life lessons with humour and passion. I highly recommend Don's motivational talks, be it addressing a Board of Directors, a Sales Team, Production Staff, or even little Jonnie's Footy Team. Don has captivating learnings for all!
"Don, you have a way of capturing your audience like no other. Your willingness to share your stories with such transparency helped us to see that our differences are actually our strengths... and we've had some of our most change resistant people say things like: he made me believe anything really is possible".
You were absolutely one of the key highlights of the day and the positive feedback in relation to your keynote speech has been overwhelming. Thank you again for being so easy to work with and I hope we cross paths again in the future.
Don has worked with some of Australia's leading brands for over 20 years with just a handful of customers below:
Need a corporate motivational speaker in Melbourne, Sydney or beyond? Don works with organisations of all shapes and sizes. Get in touch for information about pricing and availability.