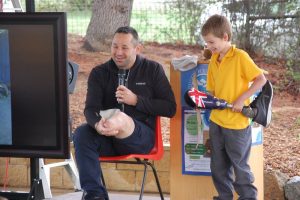 Finding the right motivational speaker for your school can be tricky. You want someone who can captivate students and create a mood that's conducive to learning. You also want someone you can trust to uphold the values of your school. As an experienced speaker for schools, Don Elgin does all this and more.
Over the past two decades, Don has addressed thousands of students in primary and high schools across Australia. Whether it's a special event for a select group of students or an end-of-year graduation, Don combines positive energy with a professional approach.
Don's charisma and storytelling skills enthral students of all ages (the leg sparks curiosity, too). However, it's the values and lessons Don weaves through his stories that make him a sought-after youth speaker for schools.
Don understands, more than most, the challenges young people face. Growing up in a country town as a kid missing half a leg, Don's faced his fair share of challenges – from bullying and peer pressure, to navigating life with a disability, and overcoming countless obstacles on his way to becoming a Paralympian. Don speaks on a range of topics that are relevant to students today. These include:
Resilience
Leadership
Respect
Gratitude
Teamwork
Bullying and peer pressure
How to say no to drugs and alcohol
How to succeed in sport, study and life. 
With four children of his own, Don knows how to keep kids engaged (even those with a short attention span).
He delivers presentations with passion and authenticity, encouraging students to 'have a go' at whatever goals they are chasing – academic, sporting or social. His collaborative approach and attention to detail makes him a hit with teachers too.
"Fantastic presentation, something that all our students would have benefited from, not just the athletics team"
It was a fantastic start to the year having you out, all the students were engaged and seemed to take something away from it.
Thank you so much again, we loved having you here. The parents and the kids are still talking about you. So much positive feedback.
"Don gives you the feeling that you can do it – get off your bum and get stuck in."
Looking for a youth motivational speaker? Don speaks at primary schools and high schools around Australia. Get in touch for more information about pricing and availability.