Don Elgin is many things. He's a Paralympic medallist, motivational speaker, author, husband and proud dad of four. He's also an ordinary bloke who's managed to achieve some extraordinary things through hard work, grit and determination.
A true 'glass half full' type of guy, Don believes in turning challenges into opportunities. By sharing his story with audiences across Australia, he inspires others to do the same.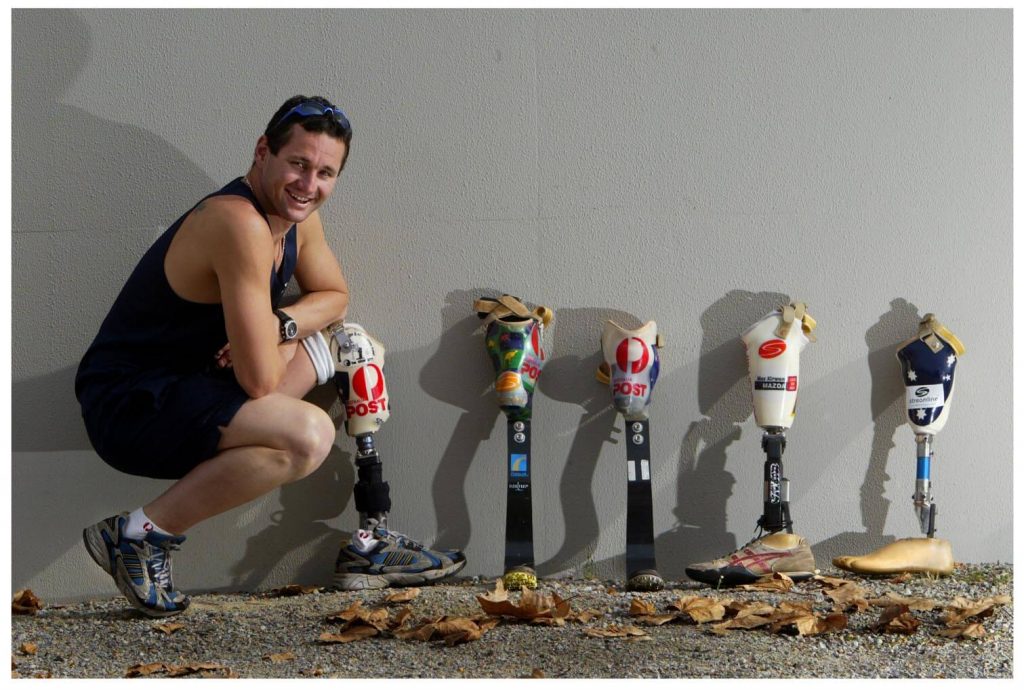 Don's story began in the rural town of Tocumwal in New South Wales. Born without the lower half of his left leg, Don was different to other kids… but it took him a while to catch on. It wasn't until high school, when a mate mentioned the Paralympics, that Don considered he might be disabled. Even then, he had to be convinced.
He wasn't old. He wasn't in a wheelchair. He wasn't missing out on life. In fact, he was kicking some able-bodied butt in footy, swimming and track and field. Sure, he had a dodgy artificial leg that wasn't designed for more than walking, but Don showed that leg who was boss. Disabled? Don didn't think so.
However, being 'disabled' opened up a whole new world of sporting opportunities. Before discovering the Paralympics, Don played sport purely for fun. There were no elite athletes in Tocumwal. But Don set his sights on being the first. His Paralympic dream was born and representing Australia became Don's obsession.
Don went on to realise his dream, representing Australia for the first time at the World Championships in 1994 – and bagging a gold medal to boot. He has since competed in four World Championships and three Paralympic Games, medalling multiple times in pentathlon and relay events. He even competed in the 2014 Commonwealth Games at the ripe, old age of 38. That's 20 years after his national debut. Not bad for an old bloke.
"Having one leg makes life interesting, but who wouldn't want an interesting life? What some people see as a handicap, I see as a golden ticket. I've been fortunate to travel the world, represent Australia and do what I love. I reckon I'm a pretty lucky guy, and I love being able to pay that forward." – Don Elgin
Don's sporting achievements
Paralympic Games
1996 – Pentathlon, Shot Put, Discus
2000 – Pentathlon (Bronze medal), 100m, 200m, 400m, Long Jump, Shot Put, Discus
2004 – Pentathlon (Bronze medal), 4x100m (Bronze medal), 400x400m (Silver medal)
World Championships
1994 – 4x100m (Gold medal), High Jump (Bronze medal), Shot Put
1998 – Pentathlon
2002 – Pentathlon (Silver medal), 4x100m (Silver medal), 4x100m (Bronze medal) Long Jump
2006 – Pentathlon
Commonwealth Games
2014 – Discus
Since retiring from sport, Don hasn't strayed far from the podium. However, these days he stands behind it, rather than having one foot on top. As one of Australia's favourite motivational speakers, Don captivates and inspires audiences at corporate events, sporting functions, schools and fundraisers.
Don's warmth, honesty and determination inspire people to 'have a go', no matter what challenges they face. His witty humour and presentation style ensure people remember Don's presentations, long after he's left the podium.
Don also podiumed at the Independent Publisher Book Awards in 2016, scoring a silver medal for his autobiography, One Foot On The Podium.
Lismore Community Health
A HUGE thank you. There was such a buzz, after your talk, from everyone who attended. It was terrific and very inspiring. Still smiling at doors even on Monday morning! We really appreciate the time and effort you put in! Once again many thanks.
BMA Coal
There aren't enough adjectives in the world to describe Don but here are a few; wonderful, witty, superb, terrific, powerful, outstanding, funny, incredible, joyous and courageous. Don is a truly inspirational all-round great bloke and it was an absolute pleasure meeting him
Australia Post
"I have heard many speakers, both professional and 'hobbyists' in the twenty-seven years I have been working. Don Elgin is one of only a few speakers who have left me with lasting impressions. Don's presentation's are of the highest standard in quantity and quality."
Lachlan Partners' Retreat
Don was everything his Bio said, entertaining, motivational and a lot of fun to listen too. He was inspirational in his delivery and truly understood the purpose of our curriculum day. His ability to make reference to his experiences and achievements whilst linking to the needs of the listeners was nothing less that extraordinary. Don is a true motivator! He inspires, motivates and encourages you to taste life again! Thanks for sharing your story, so we can make our story better. Continue to love life and the journey!
National Australia Bank
I wish we'd had more time to have more of Don. He lifted the mood of the room as soon as he spoke, telling terrific, authentic, stories about his childhood. He challenged us all to redefine what we think of as "normal" and has inspired me to encourage "too many" people to get involved in driving a more inclusive community.
SmithKline Beecham Pharmaceuticals
Don spoke very well and was very entertaining. He has a fantastic story and is a great inspiration and motivator!
ESSO
Don was an outstanding success. His bright, engaging personality, and natural sense of humour meant that staff could relate to him. Don is an ordinary person with an extraordinary story. Don is certainly entertaining, but more than that, he is positively inspirational.
Southbank Institute of Technology
Don is always a treat. The staff at the Southbank Institute of Technology staff conference loved his story, vision and inspiring words. Don kept our staff laughing and is very engaging. Don presentation was delivered at a personal level, his story and inspiring words will be reflected upon by all our staff for a long time.
WorkFocus Australia
I wish we'd had more time to have more of Don. He lifted the mood of the room as soon as he spoke, telling terrific, authentic, stories about his childhood. He challenged us all to redefine what we think of as "normal" and has inspired me to encourage "too many" people to get involved in driving a more inclusive community.
Association of Wall and Ceiling Industries
I have heard Don present twice now and it never ceases to amaze me how deeply I am affected. The 'life points' relating to his own story resonate strongly within during the presentation and long after. His 'have a go' message and honest and open approach is wonderful. I have walked away from each presentation with a lot of my own beliefs clarified and others challenged.
The Investors Club
Everyone thought Don was fantastic, inspirational, and some people said that what he spoke about couldn't have been put better. He was sensational and a pleasure to listen to. He was rated as one of the 'favourite' presenters of the day. Please pass on our thanks to him.
Contact Don
Have questions for Don? Want to book Don for a speaking gig? Simply want to say hello or share your own story? Get in touch. Don would love to hear from you.